Fort Pierce Duct Cleaning & Mold Removal and Dryer Vent Cleaning Company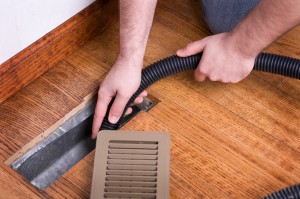 Star Quality Air Conditioning, Inc. provides professional HVAC cleaning and maintenance services. Keeping your airways clear and cleaned boosts the efficiency of your air conditioning system so you aren't wasting money and energy. Our skilled Fort Pierces air duct cleaning service professionals use only green products so you don't have to worry about harsh chemicals. Call us today for a consultation on air duct cleaning.
Fort Pierce Mold Removal
Mold is easily accumulated in your air duct vents and can really cause harm to you and your family. The EPA has suggested that keeping your air system cleaned can cut down on the spread of mold. In Florida especially it is easy for mold to thrive because of the humid weather. don't let your family suffer. Call us today to schedule a Fort Pierce mold removing service.
Fort Pierce Air Duct Cleaning
The dirt and dust that builds up in your Fort Pierce air ducts can diminish the effectiveness of your air system. The build up clogs the airways that are generally wide open and there fore more energy must be expended to force air through. Along the way, the debris is picked up by the air and dispersed throughout your house and can contaminate every room. We help make sure that that does not happen. Our professionals use a plethora of different air duct cleaning methods.
Fort Pierce Dryer Vent Cleaning
Did you know that your laundry creates an overabundance of lint that not only gets trapped in your dryer's lint collector, but gets trapped in your dryer vent as well? Over the years, this accumulation can lead to the steady decline of you dryer exhaust system. Not only does it cause the hot air to be circulated in your house, it poses a fire risk, too.
Zip Codes We Service in Fort Pierce, FL
34945
34946
34947
34948
34949
34950
34951
34954
34979
34981
34982
Fort Pierce Reviews
Star Quality Air Conditioning Inc. is Rated: 5 / 5
based on these 1 happy customer reviews.
---
"Wasn't sure what to expect, I thought I would have big clean up, but no, they did it all. Was very happy. I found out that the air conditioner is not running as often as the other one and it runs very quiet. Thank you."
---
Recent Articles
Recent Articles
If you are looking for an Air Duct Cleaning service in Fort Pierce, please call 772.299.4113 or complete our online request form.