Palm Bay Duct Cleaning & Mold Removal and Dryer Vent Cleaning Company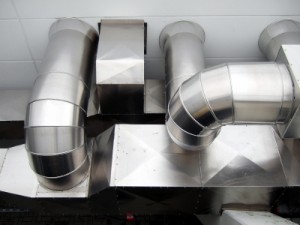 Star Quality Air Conditioning Inc. is Palm Bay's source for air quality improvement. We provide services for every aspect of air system cleaning including mold removal, air duct cleaning and dryer vent cleaning. Keeping your airways clean removes impurities that lurk and linger in your air ducts. Air recirculates through your whole house so, if one room is contaminated, all of your rooms are. Call us today to schedule your Palm bay air duct cleaning services.
Palm Bay Mold Removal
Removing mold in Palm Bay from your airways is never an easy task. It is much safer and effective to get a professional to clear the mold. We have protective gear that insures that we do not breathe in the potentially toxic spores. Our technicians use only green products so we leave your air nice and clean for you and your family.
Palm Bay Air Duct Cleaning
Your air ducts accumulate dust, dirt and bacteria. If you have a pet or smoke inside, it is much much worse. Just imagine what you find in your vacuum cleaner's storage container, but in the air circulation vents. How often are they cleaned?  Call Star Quality A/C today to take advantage of our Palm Bay air duct cleaning services today.
Palm Bay Dryer Vent Cleaning
Did you know that your clothes dryer collects lint? You may have seen how much lint collects in the trap, but do you know how much is collected in the dryer vents? The lint in your vent poses a serious fire hazard. It also obstructs the exhaust from your dryer. Let us clean out your dryer vent.
Recent Articles
Recent Articles
If you are looking for an Air Duct Cleaning service in Palm Bay, please call 772.299.4113 or complete our online request form.