Port Saint Lucie Duct Cleaning & Mold Removal and Dryer Vent Cleaning Company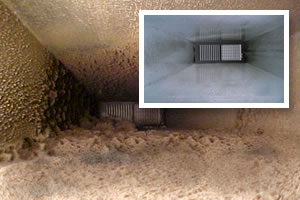 If you are looking for a Port Saint Lucie Air Duct Cleaning Service, we want to help. Star Quality Air Conditioning, Inc. has years of experience in cleaning and sanitizing airways in Port Saint Lucie houses. Our services include mold removal, dryer vent cleaning and air duct cleaning. We also have other services like germicidal UV light installation, dust cleaning, coil cleaning and much more to make sure you have the highest quality indoor air.
Port Saint Lucie Mold Removal
Port Saint Lucie is, unfortunately, susceptible to mold infestations. Mold is a difficult thing to deal with because it can mess with your health even when you can't see it and, without the proper tools, is very dangerous to try to remove on your own. Our team of Port Saint Lucie mold removal specialists are trained in removing mold quickly and safely. You don't have to worry about the quality of your air when we are on the job. Give us a call to learn more.
Port Saint Lucie Air Duct Cleaning
Our Port Saint Lucie air duct cleaning service is the best. We have the means to remove any debris that collects in your air ducts. This material, such as mold, bacteria, dust and fungus, can pose major health problems because it is constantly recirculated in your house. Protect you and your family by talking to one of our air duct cleaning experts and discussing how we can help you.
Port Saint Lucie Dryer Vent Cleaning
Your dryer vent collects lint and other debris from your laundry. While the majority of this goes to your dryer's actual lint trap, a lot escapes and accumulates in the vent. After a while the amount that builds up can block the flow of air and, in some cases,  be a fire risk. Give us a call to learn more about dryer vent cleaning today.
Zip Codes We Service in Port Saint Lucie, FL
Port Saint Lucie Reviews
Star Quality Air Conditioning Inc. is Rated: 5 / 5
based on these 1 happy customer reviews.
---
"Both David and Mike were extremely professional. They did everything they could to keep any discomfort and noise to a minimum. It was an extremely cold morning for Florida and both guys worked their butts off without so much as a complaint…"
---
Recent Articles
Recent Articles
If you are looking for an Air Duct Cleaning service in Port Saint Lucie, please call 772.299.4113 or complete our online request form.